quote:

Originally posted by 22115841:...Wailuna, why didn't you list the other branches? ...if your ww2 Army uniforms were still in good shape the AF let you wear them with the new stripes as late as as the '50s....Talk about your weird!
Good idea, 2211...etc. Can Do!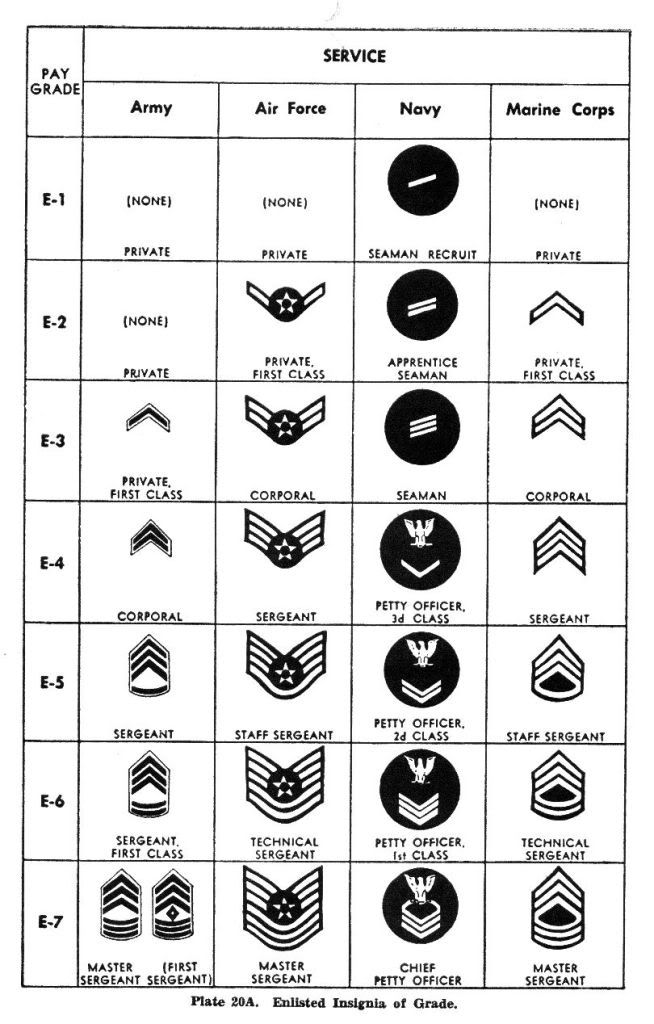 This comparative enlisted rank chart is from
The Officer's Guide
(17th ed., March 1951). Until July 1952, USAF personnel could choose to wear Army pattern uniforms in lieu of the new USAF Blues and enlisted personnel could wear either the new USAF chevrons or the corresponding Army Chevrons in use when the Air Force separated from the Army in 1947. Note, however, that the USAF did not adopt the Army enlisted rank structure launched in 1948 (i.e., the two-inch wide blue and gold chevrons), rather it retained the obsolete Army chevrons (i.e., OD stripes on dark blue backgrounds) and Army rank titles then in effect.
You want "weird"? Try this: Three BINGO Buddies on post at the NCO Club lobby. This picture shows how this "system" worked in practice ca. 1950:
Note: The sergeant seated on the left is a USAF Technical Sergeant, not an Army Sergeant First Class.
This message has been edited. Last edited by: Wailuna,